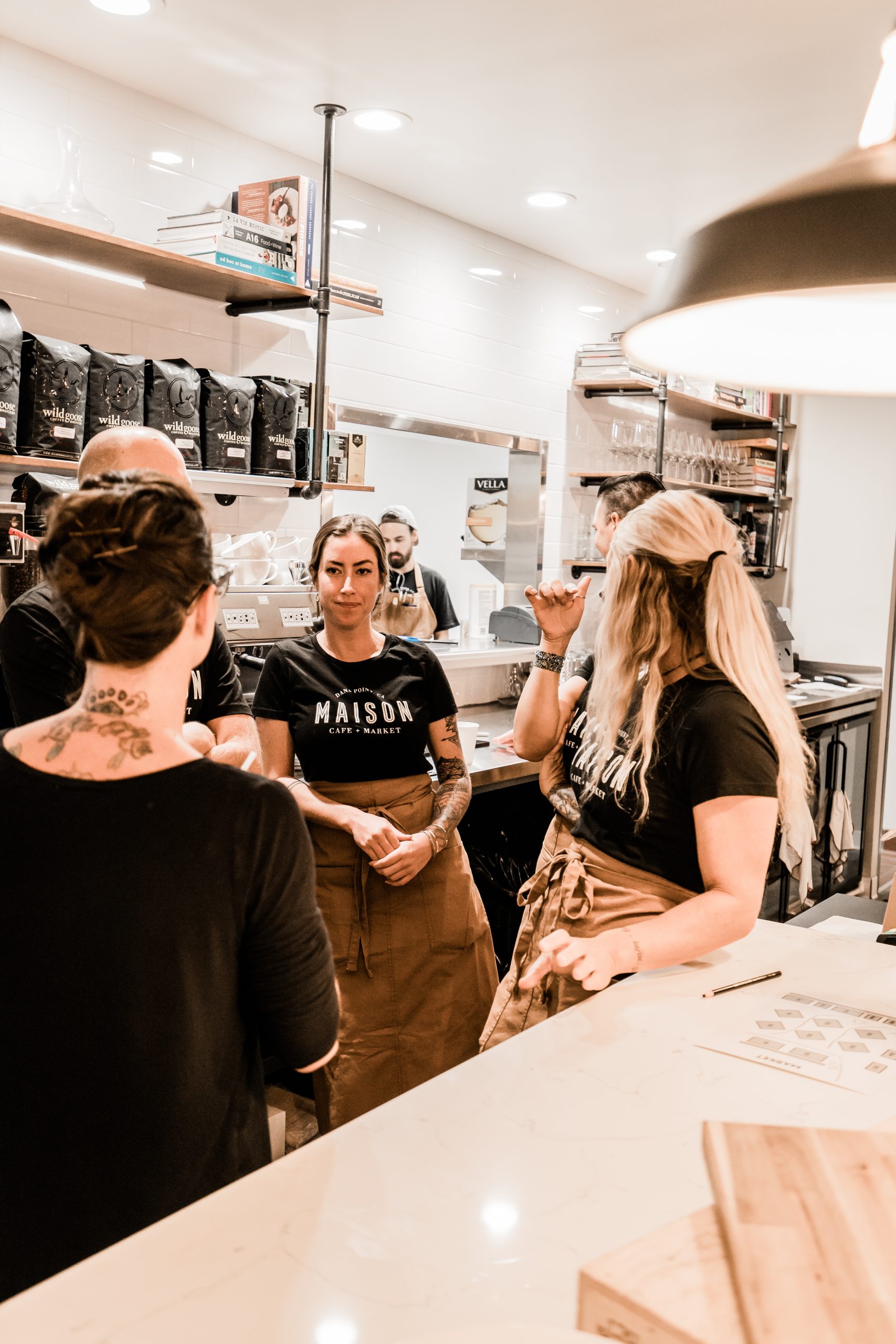 DAY ONE OF MANDATED SHELTER…
CHEF DANIELLE FOUND THE WINE STASH
Dear Maison Family,
We are here and we are still smiling and making the most of every minute. As of yesterday, we shut our dining room down, but we are offering our menu for takeout. As long as you all continue to come in, we will stay open, but we are taking it day by day.
We are doing our part in supporting some of our local vendors and are stocking up on some grocery items for you to come pick up instead of fighting the craziness of the grocery stores. While supplies last we have organic eggs, half gallons of organic whole milk and fresh baked breads from Bread Artisan Bakery. They are all available in the market daily.
I'm grateful for the love and support that the community has shown us through the year and four months we've been open, and Maison will thrive again when the storm has passed. My love and passion for all that we do here is as strong as ever, and part of what makes us so special is our sense of family, my Maison family is a collection of some of the most incredible servers, baristas and cooks you will ever meet. My goal is to make sure that they all get through this.
Today and I ask that you support the team that continues to stand beside me.
The following items will be made free of charge from 9am – 3pm (while supplies last),
but we do ask that you take care of the team. All tips will be shared evenly between our employees so that during this time they can still afford day to day necessities.
Avocado Toast
Hash
Farm Toast
Banana
Dutch Baby
Mushroom Tartine
Please don't be shy on taking us up on this offer, I would love to see some familiar faces and would always rather raise money for a good cause, and supporting my team is on top of my list right now. I also know that perishable items won't last forever and feeding each of your hearts and belly's is one of my greatest joys.
The rest of our take out menu (breakfast, lunch and dinner) is still available for ordering and pick up via the website or by calling in at 949-218-8431. Don't forget we are also open for dinner service offering family style dinners for either pick up or delivery from 5-8pm.
Thank you to every guest that has walked in our doors and allowed us to shine. We are thankful, blessed and humbled by the support and love.
PS. We still have flowers and wine available
PSS. Lots and lots of wine
PSSS. Please continue to let us know if you know anyone in need, we have bags ready to donate with basic pantry needs that we would love to give to those needing that little extra support and love during this time.